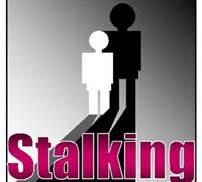 If you have that feeling that something just isn't right, or that you are being secretly followed, or watched, it isn't necessary to live in fear and feel that you have no options to defend against the threat.
For the majority of stalking
victims, the fear that something will happen is overwhelming, and they never feel safe.
Stalking is definitely a problem, yet
unless there is factual evidence that a crime has been committed

,
stalking and harassment

complaints

are often

not

followed up upon by law enforcement

.

Individuals just don't take action until the problem gets very serious or it's simply too late.
To further
complicate stalking cases, many people believe stalking victims are merely paranoid and
not in any real
danger.
If you

believe that you

are being stalked or harassed

we

will investigate

your claim and concern

s, identify the subject or subjects and provide you with the

documented
proof to further your complaint with law enforcement.
Please contact

our office

by phone, e-mail, or website

contact
to discuss your fe

ar's and

concerns
.