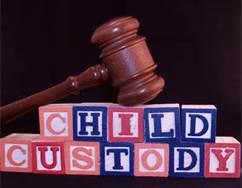 Child Custody and Support are often the most disputed areas as they affect both emotions and money. Unfortunately, children are often used as bargaining tools. Parents' responsibility to manage their children's growth and development continues even though the marriage ends.
If the parents cannot come to agreement the court will make child custody decisions based on what is in the "best interest" of the child. This aspect can be the most complicated and controversial part of the case. There are many factors the court will consider when making a decision. The main reasons to hire a private investigator include: Proving Neglect and/or Abuse,

t

o Gain Visitation Rights, or Adoption. In addition to the pre-custodial investigation it sometimes becomes necessary to verify that an existing court order is being honored. Those areas include, verification of nonblood related visitors in the home past midnight, when the child is present, or depending on the circumstances, verification that a restrained individual is not visiting with your child while in the care of relatives.

Our investig

ator's will

investigate the allegations and provide you with the proof and documentation necessary for the court hearing.
Please contact our office to discuss you concern with Investigator Keith M.
Kirby